"Everything is a learning process and regular life doesn't stop. We have to learn resilience with everything else. Whatever else comes along the way, we never stop learning. We never stop learning because when we stop learning, that's the end."  –  Amy Morrison Regenstreif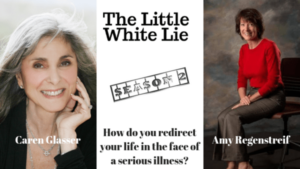 On this episode of The Little White Lie Caren and Amy talk about "How do you redirect your life in the face of serious illness? They cover the following topics:
You Have the Power: You are the president of your own care and now you must elect a cabinet.  I'm the president. My cabinet is not telling me what to do. They're saying, this is what I think you might want to do.   (See more thoughts about that from Caren's interview with Marcus Hanson)
Feel It, Then Create It: First, you have to get over the shock. You have to go through whatever emotional process you need to do to get a grip on things. I gave myself the time to go crazy, but then I got down to business.  I started to use a process to figure out, based on how I felt. (See more thoughts about that from Caren's interview with Lynda West)
You have to laugh. You don't have to be funny, but you have to learn how to laugh. Have humor and develop a very thick skin because people say stupid things to you all the time.
Amy Regenstreif is a patient advocate. She helps to guide cancer patients in a realistic way, how-to, in organizing their lives with them at the center of it all.
Live Stream
Super Boomer Moments
Share these "boomer moments" quotes on your social media pages:
"We're the president of our own care. We're responsible for the care we get into. Get that board of directors, those advisors around us."
"You have to have a very defined process in the craziness."
"Educate yourself about what's wrong with you and what are other people doing to feel better."
You can find more shows on The Little White Lie
Mentioned in this episode
You can leave a comment on the show below. We'd love to hear from you. Questions? Email us here