"If you are not Living Live, you are not Living Life." – Lynda West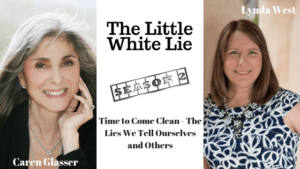 On this episode of The Little White Lie Caren and Lynda talk about: "The Lies We Tell Ourselves and Others." They cover the following topics:
It's Never too Late to Start:  "At age 47 I picked up the bass guitar and said, I want to learn how to play it. And so, my husband taught me how to play and I started playing in a rock band."  (See more thoughts about that from Caren's interview with Jody Harris)
Overcoming Fear:  "Every morning I asked myself,  what scares me? I asked myself those three words every morning and whatever it was, the very first thing that popped into my head, that was the thing I did that day." (See more thoughts about that from Caren's interview with Jacquelyn DePaul)
The danger in constantly telling ourselves lies is that it comes into your reality. It starts as a little lie then you start telling the same lie/story over and over and over again and then it's a reality.
Lynda West a Chameleon Preneur. She is the Creator of Living Live TV and after working in the corporate arena for over 36 years at the age of 51, Lynda jumped into the world of entrepreneurism. She says, "You are never too old to start", and that was back in 2014 and she has never looked back.
Live Stream
Super Boomer Moments
Share these "boomer moments" quotes on your social media pages:
"Stop telling yourself you can't and start telling yourself you can. When you do that, the opportunities arrive ."
"Once I started the journey of self-discovery, I discovered a lot of lies I'd been telling myself ."
"I woke up this morning and said, I've got to do something different."
You can find more shows on The Little White Lie
Mentioned in this episode
You can leave a comment on the show below. We'd love to hear from you. Questions? Email us here