I had the opportunity to talk with Adena Sampson, the founder of Out Loud Productions and the Unbreakable Spirit movement about navigating life. Adena is a gifted speaker, singer, songwriter, and bestselling author.
Overcoming Challenges
In 2008, after her business crashed, she ended up in the hospital with a high fever for days that turned into weeks. Nobody knew what was wrong with her, but she knew something wasn't right and that she needed to leave her unhealthy relationship. Adena eventually overcame her challenges and now teaches people how to turn their own challenges into victories and live an authentic, courageous, and passionate life.
Limiting Beliefs
On the show, we talked about limiting beliefs and the importance of being aware of your mindset. She defined limiting beliefs as any beliefs that are not in alignment with who a person truly is. These beliefs can come from a variety of sources, including the environment in which a person grows up, their parents, experiences in their adult life, and trauma. Adena tells us that it is important to identify and challenge these beliefs in order to become more authentic and successful.
The Book
Adena's debut novel The Road Back: Nine Principles for Navigating Life's Unexpected Twists and Turns Codependent No More is based on the speaker's own journey of overcoming limiting beliefs and codependency to reclaim their life and is meant to be a roadmap for the journey of self-discovery and encourages readers to take the road back to themselves.
Click here 👇👇👇  to watch the full show on YouTube.  And while you're there, don't forget to SUBSCRIBE to get new show notifications.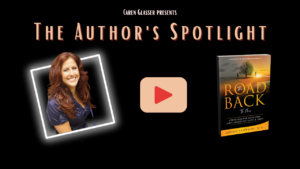 Or download one of our TV Apps:
Some Highlights
0:00:00 Adena Sampson: Overcoming the Insurmountable and Living a More Authentic and Courageous Life +
0:02:15 Coping Mechanisms and Limiting Beliefs in the Face of Adversity +
0:04:06 Exploring Limiting Beliefs: A Discussion on Authenticity and Trauma +
0:08:50 Turning Adversity into Opportunity: Exploring the Nine Principles of Courage to Thrive +
0:12:09 People Pleasing and Codependency +
0:14:35 Reclaiming Power in Relationships +
0:19:48 Embracing Vulnerability and Writing a Book +
You can follow Adena here:
Website – www.AdenaSampson.com
Social: @adenasampson on Instagram, LinkedIn and YouTube
Pick up a copy of the book here: The Road Back To Me
Don't forget to Download Your FREE Guide: 5 Steps to Reclaiming Your Power