This past week I welcomed my high school friend and bestselling author Lee Elder back to The Author's Spotlight. He had some fascinating stories to share. He talked about….
His Inspiration
Lee joined me to discuss his new book, Coach George Allen, and how it came to be. He was inspired by his friend, Max Fields, who played for Allen at Whittier College and told him all of his George Allen stories. In fact, it was Max who encouraged him to write the book. The book is a full biography of George Allen and in order to write it, he had to dive deep into Allen's life as there was very little written about him.
Big Announcement
Lee was happy to announce during our conversation that he had won the Nelson Ross award from the Pro football researchers association, for his book. How cool is that! Congratulations, Lee!
Click here 👇👇👇  to watch the full show on YouTube.  And while you're there, don't forget to SUBSCRIBE to get new show notifications.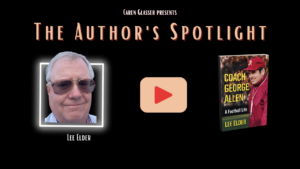 Or download one of our TV Apps:
Some Highlights:
0:00:00 Lee Elder: A Journey from Broadcasting to Writing +
0:04:12 Lee on His Latest Book, "Coach George Allen" +
0:06:35 Conversation about George Allen's College Coaching Years +
0:11:12 Conversation about George Allen's Leadership Style +
0:13:10 Lee Elder: Winner of the Nelson Ross Award +
A Little About Lee Elder:
Lee is the executive director of the Professional Football Researchers Association, a San Diego State grad, and a proud inductee into the Imperial Valley High School Football Coaches Hall of Fame. He began his writing career as a sportswriter, having to come up with five or six stories every day. Following that, he spent 23 years as a PR rep in the auto racing industry.
You can follow Lee Elder here:
Coach George Allen Facebook Page
Pick up a copy of his book here:
Coach George Allen: A Football Life
Don't forget to subscribe to my YouTube channel: