Is there a right way to being authentically you?
The whole story and conversation behind The Little White Lie is what we look like and what the world sees when it sees us. To talk about being authentically you, who better to invite back to The Little White Lie Live Show than Image Advisor Lauren Solomon? Her brand tagline is "where your style and your substance meet" – that's what we're talking about!
If you've enjoyed seeing Lauren Solomon on show before, you'll want to watch this show to see how gorgeous her natural hair color looks!
Watch it here:
So first of all, when we say "being authentic," what does that mean?
Lauren: "For me it means being able to have a sense of freedom in yourself. To have a standard of joy, and not have to think twice about who and how you are. It doesn't mean you don't think twice about, 'Do I wear this?' or, 'I don't want to wear that.' But it means that when you actually look at yourself in the mirror, there is a sense of acceptance and an absolute willingness to go out and show that to the world."
Wow, I want every woman and girl out there to feel this way! But do you think there's a right way and a wrong way to be authentic?
Well, Lauren and I talked about our own stories of getting to authentic in terms of our natural hair color. This meant stepping outside of society's message that to be beautiful and sexy we can't have gray hair. Lauren believes that what we did and how we did it speaks to our own levels of authenticity.
For example, Lauren said to me: "You were far braver than I in the process. Equally inspired, the fact that you did it month by month, half inch by half inch, reveal by reveal, and actually grew a following around it – that's pretty big. I on the other hand knew that I needed to do it, I wanted to do it, and I had a mental breakdown around it [which is how] I made the hardcore decision!"
Here's what happened … "I needed to go on camera, I was sitting in my stylist's chair waiting to get my color done, and he didn't show because he had gotten sick during the night. What was I gonna do? I could feel the tears streaming down my face, and I thought, 'Okay, this is stupid, this is really stupid! This is my business. I am the expert here, I should be able to figure this one out.' So I went for a blow-dry, we powdered in the 'skunk' and I went on camera, I had little bits of brown powder showing on my forehead.
"The next day, I said, 'We're done with this. I'm just not doing it anymore. How do we get it out?' So I actually went through the process of stripping the color out of my hair."
Now that Lauren's done it, she feels "It's really fun and it's working for me. And that's the part of authenticity that says, you have to take the steps to do what works for you."
I wasn't so sure myself when I started my process – I always said that the worst that could happen is that I hated my white hair and skedaddle to my stylist to color it again. But I love it!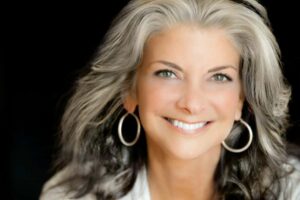 Lauren shared that everytime she would talk to her stylists about being more authentic by going natural, they would say, "Wait a minute, if you could look this great brunette, why would you do it?" And now people say to her, "I can't [go gray like you did]. I just won't look good." I can't tell you how many people say to me, "Well, I don't think I'm ready to color my hair," or "I wanna have plastic surgery," or similar – there are many forms of the Little White Lie…
The message here is not that you should or you shouldn't – it's that the decision is YOURS, not what somebody else (or society) is telling you to do.
As Image Advisor, Lauren tells her clients this: "You can get all the input you want, you can shop it all you want, you're gonna get a million inputs, a million opinions … But the bottom line is you should make a decision, and not make it by default. It's not because you've always colored your hair or because you've always worn stretchy pants, or because you've always worn green. Your most authentic position is to make your decision right for you, then move forward with it."
Lauren's expert tip to help you become that authentic decision-maker: "If you do what makes you happy, if you do something every day that gives you pure joy, then you will make better decisions about how you show up as your most authentic self, all the time, the rest of your life. Do something that just makes you laugh at yourself and makes you feel good. Maybe it's using your favorite mug instead of saving it. Maybe it's wearing the jewelry that you've been saving for special occasions. Use your special china. Go to a beautiful restaurant.
Authentically you – THAT's where style meet substance!
You can follow Lauren Solomon here:
www.LaurenSolomon.com
Facebook: LaurenSolomon
LinkedIn: LSimage
Twitter: @LSimage
Thanks for being part of the Little White Lie Movement!