"I believe that women are gorgeous at any age they are and that is part of the confidence thing" – Joie Gharrity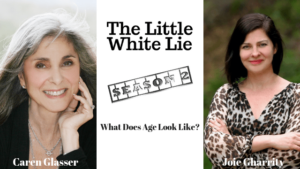 Self-care (see more thoughts about that from Caren's interview with Cindy Joseph)
The important role confidence plays in how we show up (Caren speaks with Cat Williford about this on a past interview)
How to incorporate rituals into your everyday life that will support your inner game and external games.
Joie Gharrity is the Founder of 113 Branding Digital Studio. She worked for 15 plus years in the entertainment industry for top studios such as Sony Pictures and Walt Disney Company, just to name a few. She is also the host of the popular live show, the Hollywood Spotlight Series featuring television, film and online Hollywood industry influencers.

Super boomer moments
Share these "boomer moments" quotes on your social media pages:
"As we get older, we get wiser."
"Be confident about who we are and take care of our bodies inside and out."
"Beauty is confidence, being confident in your own skin and how we walk into and out of a room.
You can find more shows on The Little White Lie
Mentioned in this episode
You can leave a comment on the show below. We'd love to hear from you. Questions? Email us here