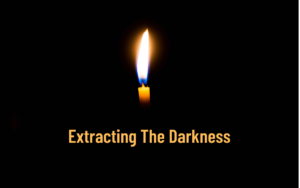 On this episode of Caren Glasser LIVE! meet Terrah Bennett Smith and Shelly Robertson. They are newly empty-nester moms, who are reinventing themselves, extracting the darkness. We go behind the scenes of Extraction, a Mission Impossible Meets Desperate Housewives web TV show. The show is about four mature imperfect Black Women on a quest to dismantle a ring of abusive men. Their quest is an irreverent, funny, action-oriented, and emotional journey. It hovers over their individual need to extract the darkness from their own lives and past.
They cover the following topics:
How Extraction The Series came about
How to look within to find our own dark demons
Collaboration; how it can be challenging and especially creative collaboration.
Finally we talk about the show being a family affair. How they are creating lasting memories with their kids.
A Little About Our Guests
Terrah Bennett Smith is a Native New Yorker. She has enjoyed a rich and multi- faceted career in the entertainment industry. In addition to working as a director, producer and actress, she is singer/songwriter and screenwriter. Recently, she returned to her first love, acting & singing. She is currently scheduled to star in a new television series MY SWEET LIFE. She is also recurring on the UMC series STUCK WITH YOU. Finally, Terrah is the founder and CEO of Royal One Entertainment. Royal One Entertainment is a management and production company. Finally, her claim to fame is being the proud mother of three exceptional young adults.
Shelley Robertson's television credits are extensive. She most recently guest starred on Swat, The Rookie, This Is Us and Lucifer to name a few. In addition, she can also be seen on Apple TV's THE MORNING SHOW.
She received a LA Weekly nomination for Best Actress for JOE LOUIS BLUES in addition to a NAACP Theatre Award nomination for LONG TIME SINCE YESTERDAY. This show also had a great run at the National Black Theatre Festival in North Carolina.
Shelley also enjoys watching her two kids pursue their artistic passions is the wind beneath her wings!
EXTRACTING THE DARKNESS LIVE STREAM
Caren Glasser LIVE! Quotes
Caren's shareable, less-than-140-character quotes:
You can find more shows on CarenGlasser.com
Social Media:
Terrah Bennett Smith
Instagram: @theterrahbennettsmith
Facebook: Terrah Bennett Smith
Twitter @terrahbsmith
Shelley Robertson
Instagram: @iamshelleyrobertson 
Facebook: Shelley Robertson
Twitter @rshellrae
Extraction The Series
Instagram: @extractiontheseries
Facebook: Extraction The Series