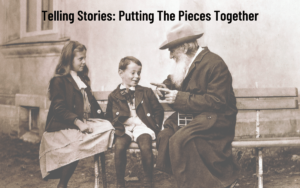 On this episode of Caren Glasser Live, Caren is putting the pieces together with Master Storyteller, Evan Kent to the show. He is singing songs, telling stories and creating memories.
We cover the following topics:
What a storyteller is and what they do.
Chapter Two. Embarking on a new career as a performer/teacher. How he reinvented himself after moving to Israel
Shards, his one man show. How telling his story and the stories of his ancestors is a way to preserve our legacies.
Evan entertains us with a few of his stories
A Little About Our Guest
Evan is a master storyteller, performer and cantor having served his congregation for 25 years. Having moved to Israel in 2013 he is currently on the faculty of Hebrew Union College in Jerusalem where he teaches liturgy and sacred music. Evan is also a musical theatre performer having starred in many productions in Jerusalem. His one man show "Shards-Putting the pieces together" has been presented in Jerusalem, Prague, and throughout the United States.
Telling Stories: Putting the Pieces Together
Caren Glasser LIVE! Quotes
Caren's shareable, less-than-140-character quotes:
You can find more shows on CarenGlasser.com
Social Media:
Website: www.evankent.com
IG: @evankent
Twitter: @evankent
FB: Evan Kent
Promotions:
Get your tickets to Shards here: http://bit.ly/SHARDSLIVE